Erosion Control Overview:
Southern Arizona is well known for its monsoon season and potential for a lot of rainfall in a short period of time. As a result, it's not uncommon for sand and debris to find itself in places it shouldn't be or for water runoff to create unwanted ruts and desedimentation. Erosion can also impact home foundations, walls, patios, hillsides, and plants. Our solutions are designed to offset potential erosion from occurring and to correct any active problems that exist.
Our team uses multiple strategies to effectively solve erosion issues. Each property's circumstances are treated on a case by case basis and resolved with the appropriate measure(s) required. Our solutions include:
Check Dams: designed to counteract
the flow velocity of large volumes of water
Wattles: designed to filter sediment laden runoff and reduce flow velocity;
common around storm drains
Rip Rap & Salt River Rock: designed for channeling water flow and holding
sediments in place; also prevents ruts and blowouts by reinforcing banks, curbs,
the right of ways, and other transition areas
Retaining Walls, Stacked Stone, & Gabion Baskets: these options are most
effective in combating erosion on steep slopes and hillsides by implementing
them at the base or by creating a "tiered" look on the hillside
Drains & Dry Wells: drains and dry wells are useful strategies for re-routing runoff
and eliminating areas of standing water around a property
Plants: installing plants and trees can be helpful to help hold sediments in place;
the roots beneath the surface help hold soil in place
Decorative Rock: installing decorative rock can hold soil in the presence of
flowing water; ideal for flat areas, slight grades, and as a compliment to the
erosion control strategies listed above

Pam and Rick were looking to put a stop to their ongoing erosion problems. Year after year, monsoon after monsoon erosion and run-off would leave sand and sediment piled up in the street in front of their home. The run-off needed to be slowed down and the earth kept in place. PWE was selected to solve this problem by constructing check dams at the mouth of each run-off channel and lining each channel with rip-rap to keep the earth in place.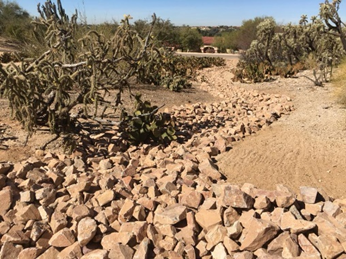 Recontour and reinforce run-off channels
Add new Coronado Rip-Rap to the run-off channels to prevent further erosion
Install check dams at beginning of run-off channels to prevent sediment from
burying newly installed rip-rap
25 Tons of Coronado Brown Rip-Rap
4 Check Dams
3-6" Coronado Brown Rip-Rap
Dear PWE,
We would like to thank you and your team very much for your fine work, your professionalism and your expert analysis of the erosion control measures our property needed to both beautify and preserve our grounds. The stop dams and the selected rock media combined with your imagination and diligent work ethic all combined to
achieve a magnificent landscape which will reverse the adverse effects of previous years erosion for future years to come. Our recommendation to all others to employ you and your company is given without qualification or reservation.
Best wishes for your continued success and best regards,
– Pam & Rick, Homeowners
View Our Erosion Control Gallery

Don't wait until it is too late!
Don't wait until it is too late!
Have Questions? We Can Help